Ranging from precision strike on heavy targets to mass eradication of enemy troop formations, bombers are a rarely-seen but still very much alive aspect of aerial-based warfare. With the capability to deliver enhanced munitions in numbers or with speed that even TSFs will find difficult to match, all that a bomber needs is uncontested airspace; something that is, unfortunately, a rarity in conflicts involving the BETA.
B-52 StratofortressEdit
An extremely long-range subsonic bomber, this veteran aircraft from the immediate post-World War II era has undergone heavy refitting to be able to once again serve the US military.
B-1B LancerEdit
A modern bomber aircraft of the USAF, the original A-variant of the Lancer never entered production, and was superseded by the B-variant upon approval for service. With a respectable top speed, and capability to carry a wide variety of warheads, bombs, and other munitions, the speed, agility, and firepower of the Lancer is not to be underestimated.
Several were deployed during the Yukon Base Incident, but were engaged and shot down by Laser-class released by the RLF from the base' underground labs.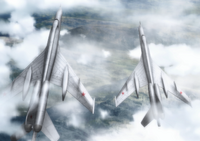 Known to NATO forces as the Blinder, the Tu-22 was an ambitious early attempt at a supersonic bomber, lacking the fuel range and firepower that was expected of it. Nevertheless, the Blinder remains a high-priority asset thanks to its high speed and airstrike capabilities as a supersonic bomber.
Known to NATO as the Backfire, the Tu-22M is a reworked variant of the Tu-22 with very little resemblance to the original craft. A swing-wing design allows for improved flight handling and range.
Known to NATO as the Bear, this long-range subsonic carpet bomber was developed sometime after World War II. The BETA invasion saw it being sent into combat despite its age, and while its payload is impressive even by modern standards, the Tu-95 is slow, incapable of any kind of low-level flight that could reduce its chances of being targeted from long range. In addition, a complete lack of armor, coupled with a fragile structure, means that it can be easily shot down by Laser-class BETA.
Ad blocker interference detected!
Wikia is a free-to-use site that makes money from advertising. We have a modified experience for viewers using ad blockers

Wikia is not accessible if you've made further modifications. Remove the custom ad blocker rule(s) and the page will load as expected.