While not widely used due to their relatively simplistic flight patterns and lack of speed and maneuverability, drone aircraft are still an important aspect of aerial warfare against the BETA. Capable of providing tactical reconnaissance when orbital assets are unavailable for use, drones on the battlefield allow a commander to get a clear grasp of the situation; and were the drone to be shot down, there would be no loss of life.
A secondary use of drones is in training, where they serve as mobile targets for target practice in various scenarios.
MQ-9 ReaperEdit
A basic drone, seen in use at Yukon Base as a low-value training target. Capable of carrying ordinance when used in combat.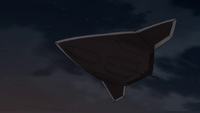 A delta-wing drone that saw deployment by the Imperial Japanese military during the BETA Invasion of Japan, primarily in a reconnaissance role.
While the drones in this article are named, they bear a few visual differences from their real-world counterpart for reasons unknown.
The X-47B, in the real world, is a prototype unmanned air combat vehicle currently being tested by the USA. It is not known if the version in Total Eclipse shares any capabilities with it.
Ad blocker interference detected!
Wikia is a free-to-use site that makes money from advertising. We have a modified experience for viewers using ad blockers

Wikia is not accessible if you've made further modifications. Remove the custom ad blocker rule(s) and the page will load as expected.