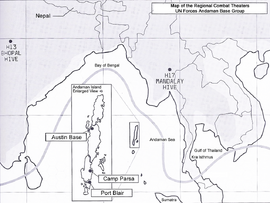 The Andaman Base Group is a network of military facilities stretching throughout the Andaman and Nicobar Islands, in-between India and Southeast Asia. The base group serves as a staging point for anti-
BETA
operations on the Indochina front, and shares the islands with a refugee camp that functions as a stopover for refugees from Southeast Asia to farther lands. The entire island is split into three major sections, mainly North Andaman, Middle Andaman, and South Andaman. Port Blair, the heart of the base, is located in Southern Andaman, as is the temporary refugee area, Camp Parsa, while Austin Base is located in the northern region of Middle Andaman.
The origins of the Andaman Base began in 1978, when India began to prepare for the inevitable BETA advance from Kashgar. As part of plans to expanded their logistic capabilities, the Indian leadership decided to build a network of facilities on the Andaman and Nicobar Islands in the Bay of Bengal, and were supported by the UN from Diego Garcia, in the African region.[1] In 1985, the base group, with Port Blair as the central area, was completed, and after the southwards BETA expansion since the 1990, the base has also become a key facility for supporting the flank of the Indochina front.[1]
Many of the refugees currently staying in the camps also work in the military bases as laborers, in facilities like synthetic food production and such; the UN did not have the resources to continue maintaining the facilities for extended periods of time, and over time, semi-permanent facilities had also been built on the camp grounds, which had been in operation since 1984.[1] A pilot training school is also located in Camp Parsa, and covers training from basic to advanced stages; most of the attendees are children. As such, veteran Gurkhas in the region will sometimes look for new recruits in the camp as well.[1]
A portion of the 1st Force is stationed alongside other military units at the Andaman Islands in the Indian Ocean, and borrows facilities built by the Indians as part of the United Nations' future operations to capture the Kashgar Hive.
Personnel
Edit
Command Personnel
Edit
Tarisa's CO. A very sarcastic individual.
Armor Forces
Edit
215th Tactical Armored Battalion
As an F-5G pilot, Tarisa used the callsign of Pahar-1.
2nd Lieutenant Palus Amei
As Tarisa's chaser, Palus used the callsign of Pahar-2.
Civilians
Edit
A youth living in Camp Parsa.
1978: Plans for the Andaman Base Group and related locations are first laid down.
1985: Construction of the base group, with Port Blair as the central area, is completed.
1990: The Andaman Base Group begins to support refugee movements from South-East Asia to other locations.
~1998: The F-5G Tigershark, piloted by 2nd Lieutenant Tarisa Manandal, is used in operational trials at the Andaman Base.
References
Edit
Ad blocker interference detected!
Wikia is a free-to-use site that makes money from advertising. We have a modified experience for viewers using ad blockers

Wikia is not accessible if you've made further modifications. Remove the custom ad blocker rule(s) and the page will load as expected.