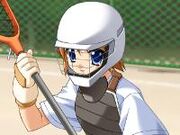 Asakura (麻倉) is a minor supporting character that appears in Muv-Luv Extra, Muv-Luv Alternative and Muv-Luv Altered Fable.
A student in Hakuryo's 3rd year D class, she plays on Suzumiya Akane's lacrosse team with Takahara as the goalkeeper.
Alternative
Edit
Part of training squad 207A lead by Akane at the UN Forces Yokohama Base. Along with her squad mates Kashiwagi Haruko, Tsukiji Tae, and Takahara she becomes a member of Isumi's Valkyries. She's injured and hospitalized during the surprise BETA attack on December 10, 2001 during XM3 trials. As of April 2003, she has become one of the 5 remaining Valkyries assigned to the Fuji School Brigade.
Altered Fable
Edit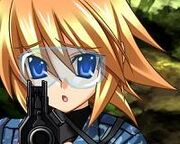 Asakura once again has a similar role to Extra, this time being one of the paint ball participants.
Ad blocker interference detected!
Wikia is a free-to-use site that makes money from advertising. We have a modified experience for viewers using ad blockers

Wikia is not accessible if you've made further modifications. Remove the custom ad blocker rule(s) and the page will load as expected.