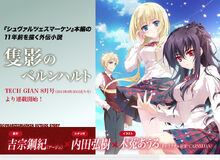 Bernhard im Schatten (隻影のベルンハルト, Bernhard in the Shadow) is the prequel to Schwarzesmarken. Opening in the waning days of 1972, it recounts the tale of of the Bernhard siblings, Jürgen and Irisdina, and their friend, Beatrix Brehmer as they cope with relationship issues, overbearing parents, and an alien invasion. Bernhard im Schatten replaced Schwarzesmarken in Tech Gian magazine. The series is written by Hiroki Uchida and illustrated by Auru Mimizuka with character designs by CARNELIAN.
The framing device of the story is a set of tapes, hidden by Jürgen in his family's tomb to be found by a special someone (heavily implied to be Beatrix), detailing his memories and last testament. Discovered and moved to the stasi archive, these tapes are played by an unknown individual.
Light Novels
Edit
(released 30/09/2015, ISBN 978-4-04-730693-6)
Jürgen Bernhard's Hesitation
Beatrix Brehme's Confession
Irisdina Bernhard's Decision
(released 30/01/2016, ISBN 978-4-04-734014-5)
1974
War at the table(separated version)[including two chapters from monthly magazine: War at table & War at podium]
Shock from back
Notice:Serialised version from Tech Gian monthly is a little different with separated version.For example,two chapters from monthly were rearranged into one chapter in separated version.Maybe edition like this will occur again,so must take care of it when looking up info from official site.
External Links
Edit
The Muv-Luv Wiki WiP translation of BiS
Ad blocker interference detected!
Wikia is a free-to-use site that makes money from advertising. We have a modified experience for viewers using ad blockers

Wikia is not accessible if you've made further modifications. Remove the custom ad blocker rule(s) and the page will load as expected.