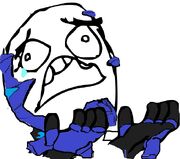 CHOMP
SLURP
CRUNCH
I MUST ASSEMBLE THE PARTS WITH MY HANDS
PTSD
UUUUUUUUU
NOOOOOOOOOOO
Origins of the Gag Article
Edit
This article describes one of the moments in Muv-Luv Alternative that has been proven to instantly cause U WA SHOCK Syndrome to new players and the instant secretion of bitch tears in older players who were actually worth their emotions. If you don't understand what the fucking hell is going on in this article at this point in time, do allow the Wiki to direct you to the glorious page of English.
Yes I added this in. Not having a Chomp gag page on a Muv-Luv related wiki is just hideously criminal.
Chomp should be remembered!
Chomp should be celebrated!
Chomp should be revered!
Ad blocker interference detected!
Wikia is a free-to-use site that makes money from advertising. We have a modified experience for viewers using ad blockers

Wikia is not accessible if you've made further modifications. Remove the custom ad blocker rule(s) and the page will load as expected.