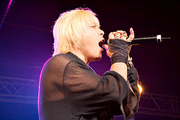 Masaaki Endoh (遠藤 正明 Endō Masaaki?, born August 28, 1967) is a Japanese singer/songwriter who is prominent in the area of soundtracks for anime and tokusatsu productions. He is one of the founders of the anison supergroup JAM Project and has been a regular member ever since its inception in 2000. His nickname is the "Young Lion of Anison" and he goes by the motto "Always Full Voice".
Theme Songs
Edit
"Carry On" - Muv-Luv Alternative Insert Song
"Sora wo Yuku Tomoshibi no Uta" - Muv-Luv Unlimited The Day After Ending Theme
Ad blocker interference detected!
Wikia is a free-to-use site that makes money from advertising. We have a modified experience for viewers using ad blockers

Wikia is not accessible if you've made further modifications. Remove the custom ad blocker rule(s) and the page will load as expected.