"The unveiling of the F-22 Raptor with fanfare goes off without a hitch at Joint Base Langley-Eustis in Hampton, Virginia. America's pride and ingenuity are put on display, with the hopes and dreams of its citizens riding on the latest 3rd generation machine."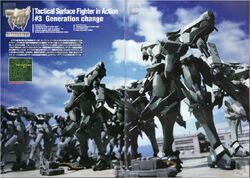 Generation Change is a short story included as part of TSFIA.
---
March 14, 2001.
Hampton, Virginia
Joint Base Langley-Eustis
As the giant hangar doors slowly parted ways, "they" stepped out gracefully in unison with unnatural silence and synchrony. Basking in the sunlight, the entire taxi runway was filled with base personnel and their celebratory cheering, whistling, and thunderous applause.
Present were the necessary ground crew, off duty air traffic controllers, pilots, mechanics, officers, and NCOs[1]: both junior and senior. Even shop clerks at the base PX and other hired civilian workers had come to witness this historical moment. It seemed that almost everyone on this base had come to the unveiling ceremony.
On the tarmac stood 4 brand new F-22A Raptors. The latest 3rd Generation TSF build by the Lockweed Mardin Manufacturing company, and the winner of the Advanced Tactical Surface Fighter Competition. It was hoped that in the short future these machines would completely replace the venerable F-15E Strike Eagle as the backbone of both the USAF and US Army.
"Man they look so cool....... I don't think I've ever seen anything quite like these TSFs before."
"Yeah, I heard in the test trials these babies had a 100 win streak against the F-15E. Most pilots never even knew where they were hit from before they bought the farm in the trials. This thing truly lives up to its role as a 'Tactical Superiority Fighter'."
"....So, whatever happened to its competitor, the YF-23?"
"Hmm...if I heard correctly, both prototype are stored somewhere in Dryden, at Edwards Air Base. They are pretty much the world's most expensive junk metal right now."
Excitement and anticipation of these machines had gotten the entire base riled up. Everyone had seen the footage, and were briefed on these machine beforehand, but to see the pinnacle of modern TSF engineering in person and to be part of the first base in America to be outfitted and tasked with real combat deployment of the F-22A was something no one could stay calm about.
Footnotes
Edit
↑

NCO means "Non-commissioned officer", in other words a military officer that obtained authority without an official commission. They generally obtain their positions through promotion in the enlisted ranks of a country's military. Examples include most countries Corporal and Sergeant ranks, and some warrant officers and petty officers can function similarly.
Ad blocker interference detected!
Wikia is a free-to-use site that makes money from advertising. We have a modified experience for viewers using ad blockers

Wikia is not accessible if you've made further modifications. Remove the custom ad blocker rule(s) and the page will load as expected.