CV: Narusawa Makoto
Birthday: 11/19
aka. Mesu Gorilla (Scalpel Gorilla)
Alternative
Edit
A veteran First Lieutenant rank UN Force Eishi from Vietnam with over 20 sorties. During the XM3 trials along with her teammates she impresses Takeru with their performance in dated F-4s and then startles him with her aggressive and sexually forward personality. Due to this dominant and forceful demeanour her comrades call her "gorilla".
Altered Fable
Edit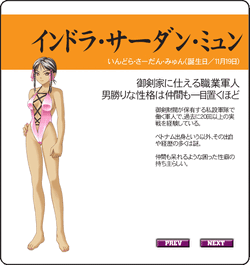 One of the Mitsurugi group's guards, originally from overseas. She is a former mercenary. As long as it feels good, it doesn't matter if it's a man or a woman.
Ad blocker interference detected!
Wikia is a free-to-use site that makes money from advertising. We have a modified experience for viewers using ad blockers

Wikia is not accessible if you've made further modifications. Remove the custom ad blocker rule(s) and the page will load as expected.