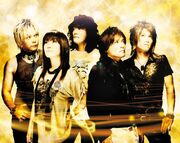 JAM
(Japan Animationsong Makers)
Project
is a music group formed from several famed anime, tokusatsu, and game song artists. Its current full time members are
Kageyama Hironobu
,
Endoh Masaaki
,
Okui Masami
, Fukuyama Yoshiki and
Kitadani Hiroshi
, with part time members Mizuki Ichirou and Ricardo Cruz, and former members Matsumoto Rica and Sakamoto Eizo. The current members have performed several theme songs for the Muv-Luv franchise, both individually and as part of the group.
According to Yoshimune Kouki, JAM Project was originally used for the the theme song of Muv-Luv Alternative to increase the game's exposure among the otaku audience. The group is well known for theme songs of other giant robot franchises such as Super Robot Wars.
Theme Songs
Edit
Asu e no Houkou - Muv-Luv Alternative Opening Theme
"Name ~Kimi no Namae wa~" - Muv-Luv Alternative Standard Edition Opening Theme
"Metamorphose" - Muv-Luv Alternative Xbox 360 Opening Theme
Ad blocker interference detected!
Wikia is a free-to-use site that makes money from advertising. We have a modified experience for viewers using ad blockers

Wikia is not accessible if you've made further modifications. Remove the custom ad blocker rule(s) and the page will load as expected.