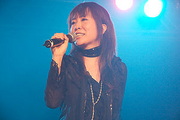 Masami Okui (奥井 雅美 Okui Masami?, born March 13, 1968) is a Rock/Pop/Anison singer who was born in Itami, Hyōgo, Japan. She began her professional musical career at age 21 as a concert backup singer. One of the classic anime theme song singers that compose the members of JAM Project, friends with the cool kids of anime songs, and as such the uniting link of the Animelo Summer Live concert series.
Theme Songs
Edit
"紫音 -sion-" - Muv-Luv Unlimited Standard Edition Opening Theme
"INSANITY" - Muv-Luv Alternative Total Eclipse Opening Theme
"TOTAL ECLIPSE" - Muv-Luv Alternative Total Eclipse Ending Theme
"Hikari no Hana" - Muv-Luv photonflowers* Opening Theme
Ad blocker interference detected!
Wikia is a free-to-use site that makes money from advertising. We have a modified experience for viewers using ad blockers

Wikia is not accessible if you've made further modifications. Remove the custom ad blocker rule(s) and the page will load as expected.