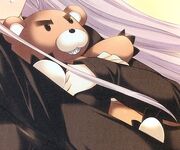 The loyal companion of Inia Sestina. Despite his softness, he is a vicious killer that only a Russian can tame.
It is said that if an army of Russian Bears were to assemble, they could easily stop the BETA within a week. However, they have chosen to remain neutral in this conflict.
Origins of the Gag Article
Edit
In Total Eclipse, Inia is often accompanied by an adorable yet vicious looking teddy bear; not unlike Kasumi's bunny.
Sakaki Chizuru appears to have adopted similar traits to those of a Russian Bear. This has been confirmed in by Inia herself, and the eyebrows are regarded as legendary.
Ad blocker interference detected!
Wikia is a free-to-use site that makes money from advertising. We have a modified experience for viewers using ad blockers

Wikia is not accessible if you've made further modifications. Remove the custom ad blocker rule(s) and the page will load as expected.