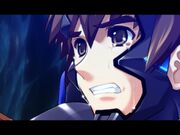 A type of FRIENDZONING particular to Shirogane Takeru and Mitsurugi Meiya.
Takeru basically annihilates any hopes she has around chapter 9 by basically telling her "YOU ARE AN AWESOME FRIEND. I'M GLAD I'M YOUR FRIEND. MAN, BEING FRIENDS IS AWESOME, THIS WILL NEVER CHANGE! EVER!
BY THE WAY SUMIKA IS AN AWESOME GIRLFRIEND AND I'M TOTALLY CRAZY ABOUT HER.
THANKS FRIEND, BYE!"
Now replace friend with noble confidant and you get the scene where Meiya's heart breaking apart could almost be listened to.
Origins of the Gag Article
Edit
"Noble Confidant" was Amaterasu's translation for the term "尊い存在" (toutoi sonzai, which more literally means "precious one"). Between them, it's not really "love", but "affection, along the line of "More than best friends, the very best partner, but never destined to be together."
Late in Alternative Takeru makes Meiya this for him, and asks if he could be the same for her. Meiya replies "That will be... a little difficult."