Their love for their hometown has birthed courage in a close group of friends. Day in, day out, they fight with experimental weapons to drive the BETA away from their birthplace... A list of weapons listed when age published their short article on Owarinaki Natsu, Towa Naru Shirabe Unlimited, focusing on the cast of Owarinaki Natsu, Towa Naru Shirabe in testing out acoustic weapons and other peculiar armaments against BETA.
Quite possibly age's greatest cocktease work since Chou Gekishin.
Type-93 Close-Combat Dagger
Edit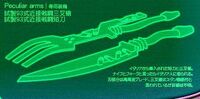 Large close-combat melee weapon with Italian origins, roughly half the size of a Type-74 PB Blade. While named as such, the weapon is too large to be used and/or kept as a simple dagger.
Resembles a cutlery knife. But if you tell that to the Italians, they will get very, very angry.
Type-93 Close-Combat Trident
Edit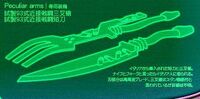 Large close-combat melee weapon with Italian origins, roughly half the size of a Type-74 PB Blade. A stabbing weapon with three prongs.
Resembles a fork. But if you tell that to the Italians, they will get very, very, very angry.
No. 333 Anti-BETA Sanitation Equipment
Edit
A pot of mysterious green substance neither liquid nor solid in nature, complete with a ladle-shaped Melee Halberd and stickied with the international biohazard sign.
Its rumoured user, a green-haired nurse, has prompted many to guess at the pot's use as a biological warfare agent container for a truly terrifying chemical.
Type-83 Pitching Warhead
Edit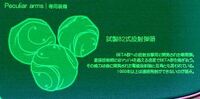 The single round developed for ranged attack on BETA groups. Pitched directly at the BETA at speeds in excess of Mach 4. Its power is said to be neck and neck with the electromagnetic launcher developed later. Its weakness is that continued projection of 1000 or more is impossible. Is operated in combination with the Type 82 Close Range Battle Hitting Sword.
Type-76 Close-range Striking Equipment
Edit
Close combat equipment nicknamed "the fist of the emperor". Later models added the ability to launch the fist at the enemy and gave birth to such variations as additional right and left blade combined shooting. Since it is not designated an experimental type, adoption is likely. Equipped with directed explosives in the striking part.
Type-89 Multipurpose Missile System
Edit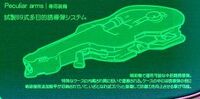 A multi-purpose missile system mounted on the machine's shoulder blocks, and can also function as additional armor to boost a TSF's defensive capabilities.
Has a secondary function apart from its missile-carrying capabilities, further increase its tactical capacity.
Type-82 Close-range Battle Hitting Sword
Edit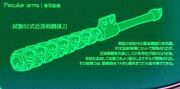 Developed as a set with the Type 82 Pitching Warhead, since it was found useful for close combat enhanced models with enhanced attack power were developed. Its destructive power can knock away Grapper Class BETA. Mounts 4 reactive shaped armour charges.
Insect-Whistle Kusarigama
Edit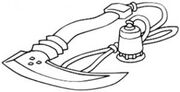 Short-range blade scythe, with a sound-emission device that allows its user to manipulate BETA behavior.
Type-90 External Audio Device
Edit
Shoulder block-mounted speaker system that produces sound designed to drive away BETA.
Ad blocker interference detected!
Wikia is a free-to-use site that makes money from advertising. We have a modified experience for viewers using ad blockers

Wikia is not accessible if you've made further modifications. Remove the custom ad blocker rule(s) and the page will load as expected.