Oh shit, Softball you say?
That's gonna be like that Lacrosse nonsense in Extra isn't it? Where it goes on far too long rambling about bullshit no one cares about for like 3 hours?
Fuck no.
SOFTBALL IS SERIOUS FUCKING BUSINESS, SO YOU BETTER SIT YOUR ASS DOWN AND WATCH.
THE SCREEN IS ON FUCKING FIRE THAT'S HOW SERIOUS THIS SHIT IS.
AND DON'T UNDERESTIMATE THEM JUST BECAUSE THEY'RE TWO HIGHSCHOOL GIRLS. THESE TWO ARE COMPETING IN A TEST OF WILL, COURAGE, AND STRENGTH IN ORDER TO DETERMINE THEIR FATES.
I MEAN FUCK, THEY'RE PLAYING SOME WIERD ASS RULE SET WHERE ONCE YOU STRIKE OUT, IT'S DONE.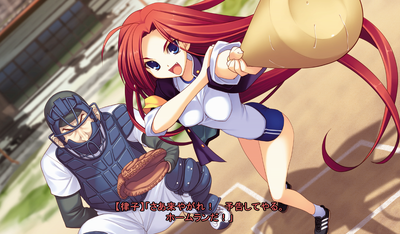 BUT THAT RED HAIRED GIRL? SHE DON'T NEED NO DAMN 3 PITCHES. SHE CASUALLY LETS THEM FLY BY AS STRIKES, BECAUSE SHE DECLARES THAT SHE'S GOING TO HIT A GODDAMN HOMERUN.
AND GODDAMN DOES SHE DO IT, LIKE SHE'S THE MAIN CHARACTER IN SOME SPORTS MANGA.
AND WHEN THAT BLUE HAIRED GIRL IS REFUSING TO COME TO THE MUSIC CLUB BECAUSE EVERYONE THERE IS A BUNCH OF PUSSIES THAT AREN'T WORTHY OF HER RESPECT LIKE THAT RED HAIRED GIRL WAS, IT'S UP TO THE MOTHERFUCKING MAIN CHARACTER TO STEP UP TO THE PLATE AND GET HER TO COME TO THE FUCKING CLUB.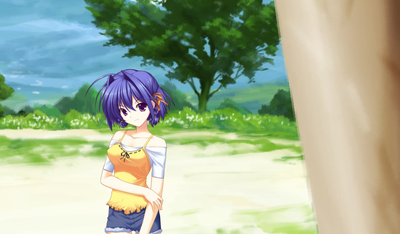 AND BY NOW YOU MUST BE THINKING, "Well, we they can't just repeat that same scene again, so they'll have him hit a a couple of normal hits and win that way, right?"
FUCK NO. HE WAS FORCED TO TAKE UP THAT RED HAIRED GIRL'S MANTLE, SO THERE'S NO WAY HE'S GOING TO PUSSY OUT AND TRY AND HIT THOSE FIRST TWO PITCHES. AND HE DECLARES HE'LL HIT A HOMERUN. BUT TOO BAD FOR HIM, HE'S NOT NEARLY AS MANLY AS THAT RED HAIRED GIRL, SO HE ONLY MANAGES TO HIT A FOUL BALL. AND AGAIN. AND AGAIN. AND AGAIN. UNTIL THIRTY SOMEODD PITCHES LATER WHEN HE'S LITERALLY WORN DOWN THAT BLUE HAIRED GIRL TO THE POINT OF EXHAUSTION, AND HITS A MOTHER FUCKING HOMERUN LIKE IT WAS NOTHING.
Origin of the Gag Article
Edit
This is seriously what happens in Warinaki.
Seriously.
Ad blocker interference detected!
Wikia is a free-to-use site that makes money from advertising. We have a modified experience for viewers using ad blockers

Wikia is not accessible if you've made further modifications. Remove the custom ad blocker rule(s) and the page will load as expected.