Yamamoto

'

Birthday

Unknown

Nationality

Relations

Unknown

Features

Brown hair, brown eyes


Fighting Machine(s)

Forklift

Voice Actor

Taishi Murata

Game Appearances

Manga Appearances

Anime Appearances
Yamamoto is a character name given to two characters in the Muv-Luv series; the first character is a minor male character in Total Eclipse, while the second is a female student set in the Haiburu mini-series.
Total Eclipse
Edit
An IJA/MDF mechanic of the Empire of Japan, the earnest Corporal Yamamoto was present during the Ц-04 Frontline Supply Base Incident in 2001. He was performing maintanence on the weapon when the call was given to evacutate, and managed to stay behind in the hangar for the EML-99X by hiding amongst the containers scatterned within.
He later assisted Lieutenant Takamura Yui in trying to destroy the EML-99X, although a BETA attack on their location interrupted their efforts. Despite being non-combat support personnel, he managed to overcome his fears, and assisted Yui in repelling a Tank-class by driving a forklift into the creature, distracting it long enough for Yui to shoot it.
The hangar was later swarmed by numerous Soldier-class BETA approaching from the service tunnels below the hangar. Yamamoto encountered them when he went to investigate some odd noises at the back of the hangar. He managed to escape their initial advance, but was eventually outnumbered and surrounded by the Soldier-class, which all begin to eat him while still alive. Yui, arriving too late to save him from being surrounded, eventually ends his life with a mercy killing.
Yamamoto

'

Birthday

Unknown

Nationality

Relations

Unknown

Features

Brown hair, brown eyes, Daddy's Cap


Voice Actor

Game Appearances
One of the main characters of Haiburu.
Is always seen wearing a cap which she cherishes alot, as it was a gift from her father. The cap resembles a mechanic's cap from the main Muv-Luv series set in the Alternative and Unlimited/The Day After timelines.
Her nickname is "Yamamoto Go-chou" or "Corporal Yamamto" as she seems like a low ranking person. She is the straight man to the Haiburu main cast's comedic antics.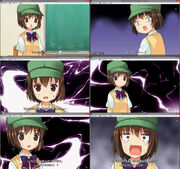 Ad blocker interference detected!
Wikia is a free-to-use site that makes money from advertising. We have a modified experience for viewers using ad blockers

Wikia is not accessible if you've made further modifications. Remove the custom ad blocker rule(s) and the page will load as expected.